What do wealthy nonprofits owe Philadelphia?
In 2018, students at Cassidy Elementary School were hanging their backpacks and storing their lunches in a classroom closet that was later found to have asbestos fibers at a level "50 times higher than the highest result for settled asbestos dust found indoors in apartments near ground zero after the 9/11 terror attacks," according to the Philadelphia Inquirer. While this is incredibly alarming, it's nothing new. Elementary school students have died at schools with no nurses, and at least one student has been hospitalized for severe lead poisoning. These revelations about the toxic state of our public school buildings come on the heels of mass school closures and severe staffing shortages following a precipitous drop in our public school funding in 2013.
In 2012, Philly Jobs With Justice launched a campaign to demand funding from Philadelphia's wealthiest nonprofits for our public schools' most pressing needs. In 2020, Philly JWJ launched a new version of the campaign to Fund Philly Schools, successfully winning a commitment to a $100 million contribution from the University of Pennsylvania. In 2021, Philly JWJ transitioned out of full-time leadership of the campaign and into a supporting role. We are committed to continuing to support the leadership of the Action Teams at Penn, Jefferson, and Drexel as they continue to fight for accountability to our public schools from our city's wealthiest institutions.
Why is the Philadelphia School District so underfunded?
The answer is complex, but a key reason is that the state-wide funding formula ties school funding to property taxes, and Philadelphia has an extraordinary amount of tax-exempt land, much of which is owned by multi-million dollar non profits. Because of their nonprofit status, many of our city's wealthiest institutions aren't required to pay property taxes that would otherwise fund public schools. For example, the University of Pennsylvania is the largest private landowner in the entire city, amounting to many millions of dollars per year in foregone revenue for the school district.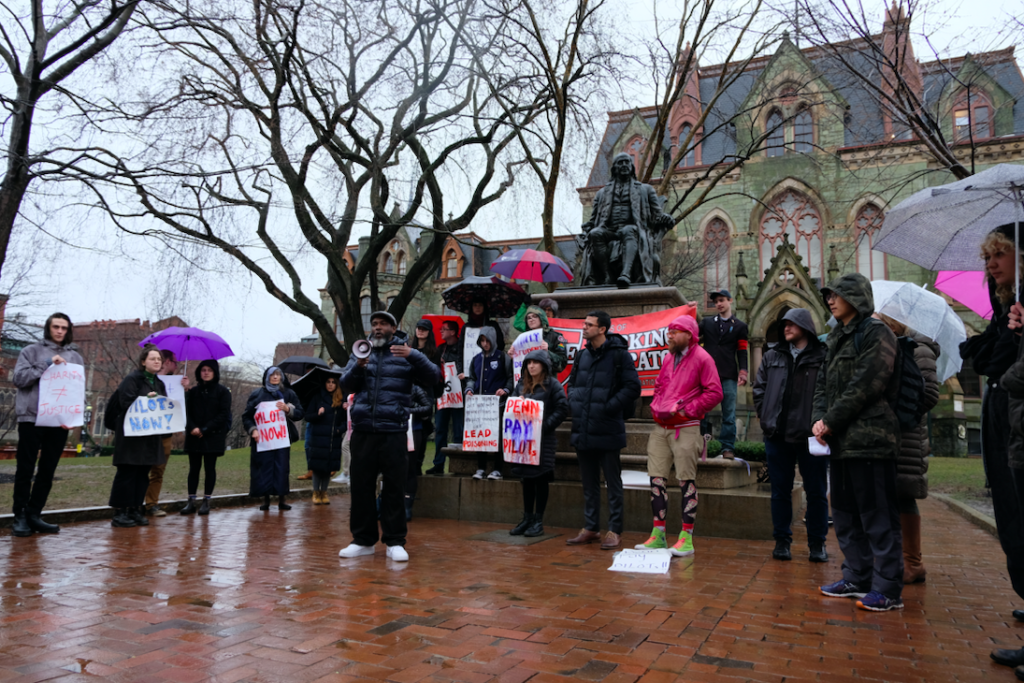 What can we do about it?
Most of this country's wealthiest universities have recognized this as a significant problem, including Harvard, Yale, and Princeton. Their solution? Payments In Lieu of Taxes (PILOTs), an agreement between major nonprofits and the city to pay a portion of those lost taxes without compromising nonprofit status. This is a commonsense solution for a city like Philadelphia, where public schools are facing an acute crisis because of a tax system rigged in favor of the wealthy.
To make up for some of this missing funding from wealthy non-profits, we're demanding that our city's mega-nonprofits, like Penn, Drexel, and Jefferson, pay 40% of the value of foregone property taxes to the School District of Philadelphia for safe and healthy facilities.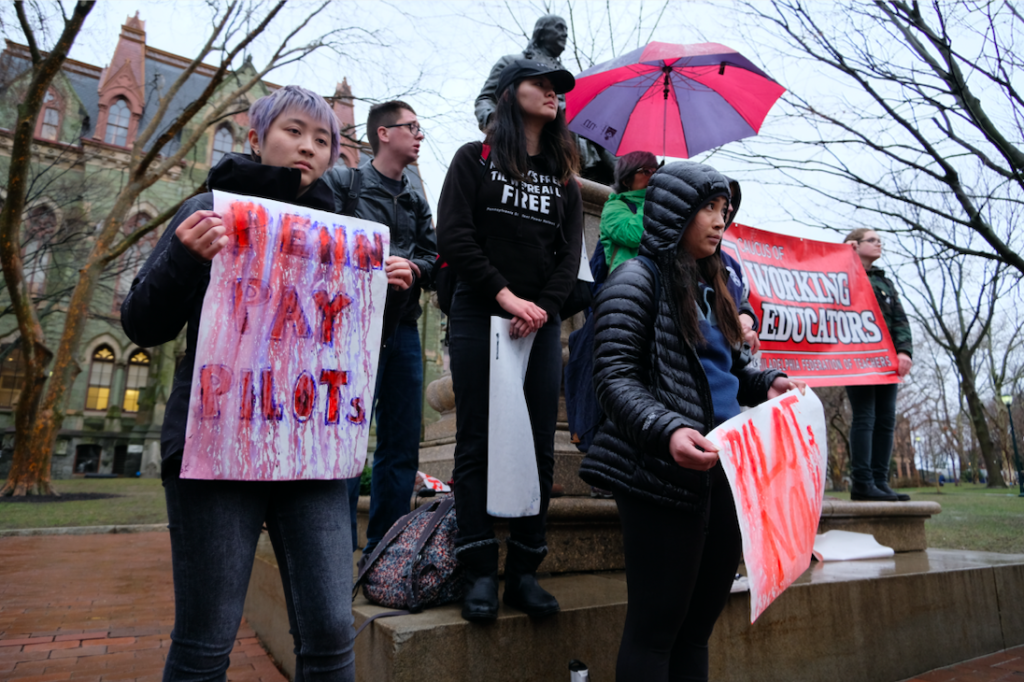 We believe that the key to power in this fight is building solidarities between institutional stakeholders, like employees, students, and alumni, directly impacted community members. Public school families, teachers, and neighborhood leaders are best positioned to identify the harm that is being done to their communities, and direct stakeholders at each mega-nonprofit are best positioned to leverage their institutional power to demand concrete changes. We believe that as community leaders develop their skills, make strategic decisions, and win big victories, they will be developing the infrastructure for broader change in our economy.
Campaign Timeline

MAY 2020: We launched a campaign to demand that our city's wealthiest institutions invest in our public schools. We're calling on these multi-million and multi-billion dollar nonprofits to pay 40% of the value of their foregone taxes to a Philadelphia Education Equity Fund. Click on the video below to watch our virtual speak out!
JULY 2020: We held a rally at the University of Pennsylvania to demand PILOTs from the University Board of Trustees. Click here to read more!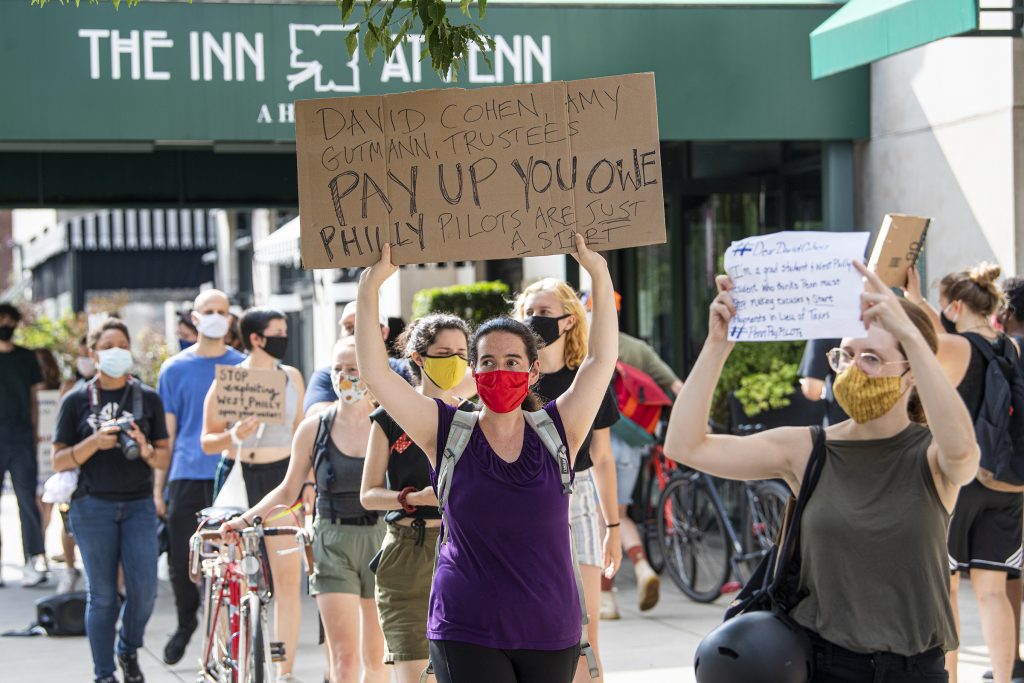 NOVEMBER 2020: The University of Pennsylvania announced a $100 million contribution to the school district over the next 10 years. Read our statement below:
Today, University of Pennsylvania President Amy Gutmann, along with Mayor Jim Kenney, School Board President Joyce Wilkerson, and Superintendent William R. Hite Jr., announced a contribution of $100 million to the School District over the next 10 years. While this is undeniably the result of the years of advocacy from public school parents, students, and educators for an equitably funded school district, the chronic underfunding of the Philadelphia Public Schools also cannot be resolved with a limited contribution​.
The University of Pennsylvania is Philadelphia's largest private property owner in a city that relies heavily on local property taxes to fund local schools. For too long, students have been poisoned by lead, asbestos, and mold. Public school teacher Lea Dirusso developed mesothelioma, a fatal cancer most commonly caused by exposure to damaged asbestos. Dean Pagan, an elementary schooler, was severely poisoned by lead paint chips that fell from the ceiling of his classroom to his desk below. For too long, wealthy nonprofits like the University of Pennsylvania have failed to pay their fair share despite the severity of this public health crisis.
This is a welcome first step, and we demand that other wealthy nonprofits like Jefferson and Drexel look to Penn's leadership when they consider why they owe to the city they call home. Philadelphia Jobs With Justice will continue to work with our partners including Penn Community For Justice, Penn for PILOTs, and the many member organizations of the Our City Our Schools Coalition to hold the University of Pennsylvania and other wealthy nonprofits accountable for paying their fair share.
MARCH 2021: We held a hearing in the Philadelphia City Council Committee on Children and Youth to examine the impact of nonprofit property tax exemption on chronic public school under-funding and the resulting environmental hazards in public school facilities. You can watch the video of the hearing below: