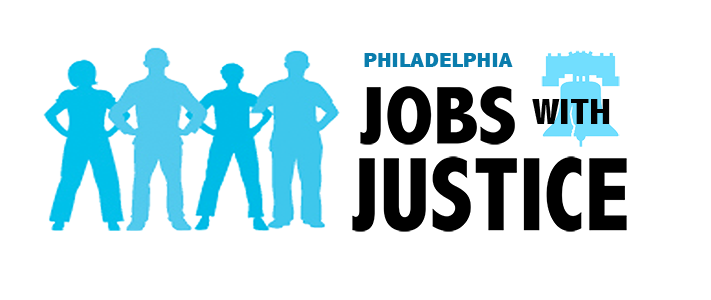 Job Title: Campaign Organizer
Position: Full-time
FLSA Status: Non-exempt
Location: Philadelphia
Salary: $42,000-$45,000
Benefits: Generous paid time off, medical and dental insurance, and subsidies for technology necessary for the position
Position Summary:
Philadelphia Jobs With Justice is a grassroots coalition organization with a 20+ year history of fighting for justice for working people in Philadelphia, both on the job and in our communities. We believe in long-term multi-issue coalition building, grassroots base-building, organizing, and strategic action as the foundation for building a workers' movement. We believe that by engaging a broad community of allies, we can win bigger victories.
This year, Philadelphia Jobs With Justice, in collaboration with other Philadelphia-based organizations, is launching a campaign targeting large corporate employers, whose workplace practices have significant impacts on both workers and the surrounding communities. This multi-issue campaign will center labor justice, racial justice, and environmental justice, as well as address issues of transit access, surveillance, and policing.
Primary Responsibilities:
The Campaign Organizer will be responsible for engaging low wage workers and members of their communities on issues of environmental, economic, and racial justice. The organizer will anchor base building, leadership development, and political education efforts and will support in building a robust coalition of stakeholders. Specific activities will include developing and implementing community surveys, developing and leading political education sessions and workshops, and communicating regularly with members and with partner organizations.
Qualifications:
Minimum 2 years experience in grassroots community organizing;
Experience developing, launching, and executing new campaigns;
Understanding of issues facing low wage workers, especially within Black and immigrant communities in Philadelphia;
Demonstrated skills in both mass mobilization and base building;
Strong facilitation skills;
Strong interpersonal skills and ability to work with people from diverse backgrounds and cultures;
Ability to balance multiple projects at once and set priorities based on long-term strategy and short-term goals;
Ability to frame issues and fights as well as articulate organizational values, strategy, and priorities to diverse audiences;
Basic computer skills (primarily Zoom and Google Workspace);
Flexible schedule and ability to work some nights and weekends as necessary.
How to apply
Please submit resume, cover letter and a writing sample to devan@phillyjwj.org with the subject "campaign organizer application." Applications will only be accepted electronically. Please include a daytime phone number where we can contact you. 20 minute info sessions are available upon request for applicants interested in learning more about the position.
People of Color, People with Disabilities and members of the LGBTQ community strongly urged to apply.